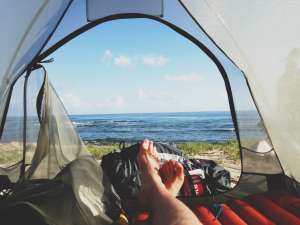 If you're looking for a lifestyle change and love the outdoors and meeting people, then buying a caravan and camping park, or leisure park, could be for you.
But whether you're interested in buying a large-scale touring caravan park with leisure amenities, a tiny tent-only rural campsite or, perhaps, a glamping site with yurts, lodges or camping pods, it's vital you know what you're letting yourself in for before you legally commit.
Considerations for Buying a Caravan or Camp site
By their very nature, leisure businesses tend to include sizeable plots of land, a varying number of residential properties and outbuildings and an array of sometimes quite expensive equipment, fixtures and fittings. Some even have swimming pool complexes and restaurants.
You'll need to satisfy yourself that there aren't any hidden problems with these physical aspects of the business – such as environmental or drainage concerns, licensing or planning issues, access problems, or disputes over boundaries – that could threaten the future success of the business or prove costly to address.
You'll also need to examine the business accounts and know the right questions to ask when trying to calculate whether the price the seller is asking for is fair. What exactly will transfer with the business? Employees? IT systems, website and social media? Supplier contracts? Specialist equipment? And how will you finance the purchase?
There's a lot to think about so it pays to seek professional guidance if you want to avoid costly mistakes.
Solicitors for Campsite and Caravan Park Buyers
Truelegal is a niche law firm acting solely for business buyers and business sellers and we have particular expertise in the leisure and hospitality sectors. We're based in the South-West but work for clients from all corners of England & Wales.
We'll guide you through the buying process from start to finish to make sure that your dream business doesn't turn into a nightmare. And we'll quote you a fixed fee for our services so you'll have one less thing to worry about.
Make a free enquiry
The sooner we become involved in the process of helping you to buy your caravan, camping or leisure business, the better understanding you will have of the associated risk and the more likely it is that your purchase will be successful.
Please either call us now on 01392 879414 or complete our Free Online Enquiry and we will soon be in touch.
Our full contact details can be found on our Contact Us page.
We look forward to hearing from you.