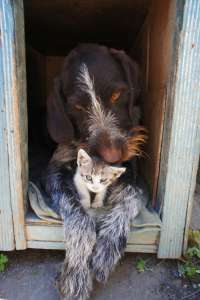 If you're looking for a change of career direction and are mad about animals then the possibility of running your own boarding kennels or cattery business may have crossed your mind.  However, running a boarding kennels or cattery isn't a business for the faint-hearted.
Looking after other people's pets is a huge responsibility and, as well as animal husbandry experience, you'll need masses of energy and unerring commitment to make it work. You'll also need a significant amount of cash to invest so may need to apply for a business loan or commercial mortgage for your kennels or cattery business.
Boarding kennels solicitors
Assuming you've done your research, can tick all of the above boxes and are still determined to go ahead with the purchase of your own kennels or cattery business, you'll need to the help of a specialist business solicitor to
help structure the best deal for you
check that your dream business is, in fact, what it claims to be on paper, and
put in place the necessary legal documentation to transfer ownership and protect your future investment.
And we can do just that. Unlike most other firms of solicitors, we are true specialists; buying and selling businesses is all that we do.  In fact, collectively, the Truelegal team has over 60 years' experience of working for business buyers and business sellers on transactions ranging in value from £50,000 to over £5m.
We're used to guiding first time business buyers through the buying process and have a few tricks up our sleeve for avoiding or resolving common sticking points to get a deal done. We also work on a fixed fee basis which means you have control of your budget and don't have to worry about spiralling costs.
Make a free enquiry
The sooner we become involved in the process of helping you to buy your kennels or cattery business the more likely it is to run smoothly and be successful, so please contact us today.
Please either call us now on 01392 879414 or complete our Free Online Enquiry and we will soon be in touch.
Our full contact details can be found on our Contact Us page.
We look forward to hearing from you.