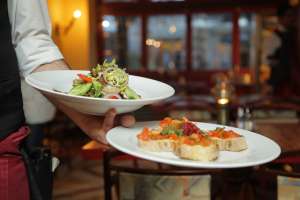 If you're thinking of selling your Restaurant, or you already have an interested buyer, you'll have a lot on your plate. Selling a restaurant business is a complex process and a real emotional roller coaster.
You'll have shed blood, sweat and tears growing your business and the sale process can be frustrating, worrying and stressful. As well as maintaining standards and service in your restaurant, somehow you'll need to find time to give consideration to the many important legal and commercial issues involved in the sale.
It pays, then, to seek legal advice from a solicitor who specialises in business transfers and who understands the ins and outs of the hospitality industry.
Truelegal: specialist solicitors acting for Sellers of Restaurants
Whatever your reason for selling – whether you're retiring, have taken the business as far as you can and are looking for the next big venture or, perhaps, are struggling to make the business profitable – the right solicitor will give you the reassurance you need to know that you are making the right decisions and getting a fair price for your restaurant business.
At Truelegal we specialise solely in business transfers and have many years' of experience acting for business sellers from across England and Wales, including restaurant businesses. Whether you're selling a 20 cover Italian Trattoria or a 200 cover Thai Restaurant, we are familiar with the particular challenges faced by your industry and have the specialist knowledge and expertise to help ensure your business sale runs smoothly.
Fixed price legal costs for selling you Restaurant business
We will guide you through the sale process and help ensure the smooth transfer of premises (leasehold or freehold), equipment and stock, systems, goodwill, supply contracts and staff. From cash flow to profitability and from your asset inventory to the terms and conditions of your employee's contracts, any slight irregularity could prove an obstacle to your sale if not appropriately dealt with.
Equally as important, we will advise on the necessary steps required to protect your position post sale, including negotiating the raft of warranties and indemnities embedded within the sale document.
At all times, we will provide no-nonsense, practical advice that empowers you to make informed choices.  And we'll do all of the above for a fixed price fee agreed with you at the outset because we know how important it is for you to have control of your budget.
Make a free enquiry
The sooner we become involved in the process of helping you to sell your Restaurant business the more likely it is that your sale will be successful, so please contact us today.
Please either call us now on 01392 879414 or complete our Free Online Enquiry and we will soon be in touch.
Our full contact details can be found on our Contact Us page.
We look forward to hearing from you.