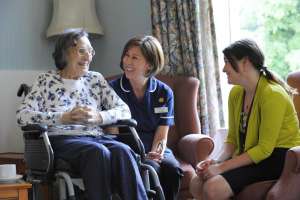 In our first post highlighting factors to consider when buying a care home (Part 1) we looked at the main industry requirements, including extensive regulatory requirements. However, if you're serious about taking on a care home business, there are some other practical considerations you should bear in mind.
How to finance a Care Home purchase: can you afford it?
Buying a care home is not a low-cost entry to business ownership. Typically, a care home business will be valued at around four to five times its yearly profit. At the very least, you'll be looking at a figure of around £400,000 for a small care home. Location and size can easily take this figure up to £2 million+. Banks will generally lend up to 75% of the capital required to purchase a care home business, so you will need at least £100,000 of your own funds to even consider entering this market.
Bear in mind that if you don't have the necessary qualifications to register yourself as the care manager, you will be limited to care home businesses with a minimum of 20 beds in order to support the appointment of a qualified individual to this role.
Restrictions on marketing a Care Home
Direct marketing by care home providers is forbidden. So, whether you are establishing a new home or taking over an existing one, attracting new customers will always be a challenge. It is possible to advertise to health professionals via Yellow Pages or specialist magazines but by far the biggest source of new customers is word of mouth recommendation. It is even more important, then, that the service you provide is top-notch – this is not an industry where you can survive on glossy advertising guff.
Registration requirements for new Care Home owners: don't get caught out!
If you are buying an existing care home, it is vital that you ensure a smooth handover of the business with as little change or disruption to the residents as possible. Employed staff are likely to legally transfer with the business in any event under TUPE regulations, however, remember that in order to stay open for business you will need both a registered care provider and care manager from Day 1.
If the departing seller has assumed either of these roles, you need to be aware that the process for registration of a new provider/manager with the Care Quality Commission can take up to 4 months. Clearly, it's important to avoid a situation where, on completion, these registrations have not taken effect, or your care home will be unable to operate.
There are two possible ways around this: you could either exchange contracts with the seller but delay completion until the registration has taken effect (exposing yourself to the risk of significant changes in the business before completion and the possibility that any loan offer you are relying on lapses), or you could negotiate a provision into your sale agreement whereby the seller agrees to stay, in a consultancy capacity, until such time as the CQC registrations have taken effect. In either case, this is an area where you need to enlist the help of an experienced solicitor and have open discussions with the seller early on in the process.
Make a free enquiry
The sooner we become involved in the process of helping you to buy your Care Home the more likely it is that your purchase will be successful, so please contact us today.
Please either call us now on 01392 879414 or complete our Free Online Enquiry and we will soon be in touch.
Our full contact details can be found on our Contact Us page.
We look forward to hearing from you.